The Annual Service of Thanksgiving for the work of Welcare in Bromley took place on Tuesday 12th November at Bromley Parish Church and Reverend James Harratt officiated.
Deputy Mayor of Bromley, Cllr Kira Gabbert also attended and is pictured  above with new trustee Paulette Tajah-Bell.
The service provided a wonderful opportunity to connect our supporters with some of the families who use our services and our new Community Engagement Manager, Sassi Stuckey-Beeri brought to life the personal story of one of the families helped by Welcare staff and volunteers.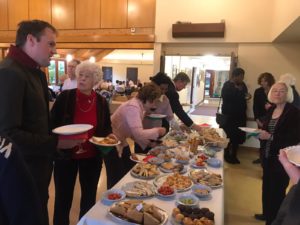 Friends of Welcare in Bromley provided a delicious buffet lunch for all the children, families and supporters.
Special thanks must also go to Mr Stephen Jackson and pupils from Valley Primary who attended and performed three wonderful songs for us.