Our Service of Thanksgiving for the work of Welcare in Bromley held on November 13, 2023, proved to be an outstanding success, thanks to the enthusiasm and dedication of everyone who attended. 
We were delighted to welcome The Worshipful the Mayor of The London Borough of Bromley, Councillor Mike Botting, accompanied by the Mayoress, Councillor Kim Botting.
Under the theme of "Living Water – A Tale of Hope," the Mayor began by reading the compelling story of the woman at the well from the Book of John. Reverend James Harratt then delivered an engaging talk that brought the story to life, even demonstrating an intriguing water-related experiment involving an inverted glass.
One of the event's highlights was the premiere of Welcare's new film, a concise yet powerful nine-minute production that vividly showcased the invaluable work carried out by Welcare, as told through the words of the families.
The highpoint of the service was the singing from Year 5 pupils of Parish Church of England Primary School, who captivated the congregation with their exceptional and uplifting performance.   Welcare has been working with children and families from The Parish School for the last four years, so it was wonderful that Mrs Coleman the headteacher and some of the pupils and their parents were able to join us this year.
Sandra Horner, representing the Friends Committee, led a series of heartfelt prayers during the service, addressing the various challenges faced by Welcare while expressing gratitude for the achievements of the past year.
The service culminated in an uplifting rendition of "One More Step Along The World I Go," and Revd Harratt distributed musical instruments to ensure everyone embraced the celebratory spirit.
Following the service, attendees were treated to a delicious buffet lunch thoughtfully prepared by the Parish Representatives. This provided a delightful opportunity for everyone to talk and reflect on the meaningful work accomplished by Welcare throughout the year. It served as a fitting conclusion to this enjoyable and uplifting event.
We would like to extend our heartfelt appreciation to all those who contributed to the success of the service, especially the Parish Primary School choir, the dedicated staff of Bromley Parish Church, Gillian Scales, Marion Westropp and Christina Clark along with all the Parish Representatives and supporters who tirelessly champion the cause of Welcare throughout the year.  Our work in the borough of Bromley would not exist without the enormous energy and commitment of our fantastic Friends and Parish Reps.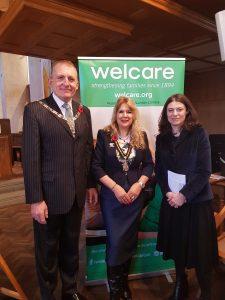 .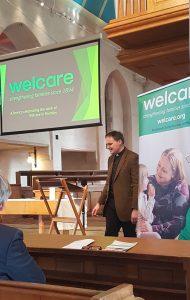 .