As Hannah prepares to move on after four years managing our Child & Family Support Service in Inner London, we interviewed her to look back on her time with Welcare…
Re-launching Services in Inner London
Welcare has served families in inner London boroughs for many generations, although by 2013 funding from statutory sources had completely stopped. After a successful application to the Big Lottery, Reaching Communities Fund Welcare was awarded a four-year grant to re-launch child and family support services. I was appointed at the start of 2016 to develop a new service to meet the needs of the local community, especially focussing on the needs of young people aged 11-13 and helping them build emotional health and well-being and strategies to help them cope with personal safety issues in areas where youth violence is prevalent.
I spent around 6 months assessing what support was needed in the area, and I was lucky to have the support to be as creative as possible in finding ways to meet those needs. The main focus was to put young people at the heart of everything we do. Of course we still provide services to families and children, but I wanted to ensure Welcare could view the child as a service user in their own right – making sure all work was tailored to best meet their needs.
We all pitched in to decorate and set up the service user meeting room downstairs – with comfy chairs and plenty of toys and activities for children. I wanted a welcoming atmosphere from the start and was really supported to make it happen – it says a lot when the CEO is willing to get their hands dirty and help out with the Ikea furniture.
Securing Funding
In 2017 we secured additional funding from CAMHS Transformational Fund (Children and Adolescent Mental Health Service), which really kickstarted the team. In summer 2017 I led OurPlace, a participatory photography workshop, where we encouraged young people to put themselves back in focus – quite literally. These were children facing immigration issues, family problems, issues with schooling… it was really powerful to allow them a creative outlet and feel seen, on their own terms.
In 2018 we secured support from Mercers' Philanthropy to sustain and grow the staff team and increase the number of volunteers which meant that we could support more children, with a wider range of experience and skills to offer. In practical terms, I could also spend more time planning and expanding our programmes. We launched our With Respect programme in local schools, for students facing difficulties with social and emotional wellbeing, or at risk of school exclusion; and MySpace in the Inner London centre – a 12 week recovery programme for children who have been exposed to domestic violence within their homes. With these programmes and the staff to run them, our services in and out of schools really joined up, and suddenly we were offering something nobody else could.
I began attending external groups including the Streatham Early Help Panel Meeting. This encouraged collaborative partnership with other organisations and fostered joined-up thinking and learning.
Summer trips
In Summer 2018 I took my team and a group of young people on a residential trip to the Lake District. Some of the young people had never left the London boroughs they grew up in and were selected because they had worked particularly hard to overcome significant personal challenges which made this such a rewarding project to be a part of. We did a range of activities – mountain climbing, waterfall climbing, canoeing, camping in yurts, swimming – which really encouraged the young people to work together, build confidence and resilience and appreciate their own strengths in a new way.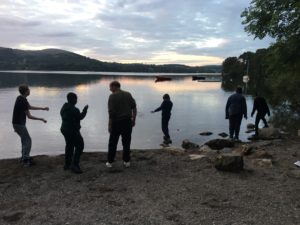 Our 2019 Summer Club in partnership with Together Southwark and Lambeth North Deanery was another opportunity for collaborative working with other organisations. We ran weekly sessions during the summer holidays, with craft activities and play for children, as well as workshops and cooking demonstrations. So many suffer from the lack of school meals during the holidays, so the simple things we could do, like sending visitors home with ingredients and a recipe for a healthy meal made a big difference.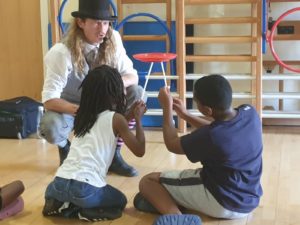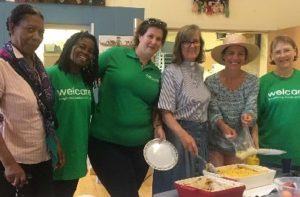 More recently
I'm actually proud of my achievements during lockdown. It's been a difficult time but we've adapted the service quickly and effectively to keep up[ that level of support. I've been running virtual parenting groups for parents of children known to the youth offending team, helping them manage through the uncertainty of lockdown and the new challenges it brings. It's so important to be flexible when working with those in high-risk and often chaotic situations – the best thing you can do is keep up a service consistently, even when everything else is unpredictable.
Highs and lows
No two days at Welcare are the same. One of the most rewarding elements of the job has been working with those who have experienced Domestic Violence – helping them to reframe experiences, and preventing them from going back into the same cycles. Delivering group work on trauma allows us to support recovery in the young person, supported by the parent. When the existing systems are failing an individual, its incredible to see the impact we can have through emotional wellbeing work, advocacy, and practical help like food vouchers. If someone is behind on rent, you don't want them to be facing a choice between paying the bills and buying food.
Life here is not without its challenges – I've had days where I've had to juggle ongoing group work with an unexpected police investigation. Or sometimes, with CP (Child Protection) referrals, you get instances where parents or caregivers just don't want to engage. For whatever reason, bad past experiences maybe, they see us as a threat, or don't see the importance of the work we're trying to do. I find if you talk to people openly and transparently, and model positive behaviour to them, you can go a long way to break down those barriers. Being on time, offering a cup of tea, it's all part of differentiating Welcare from the cold and clinical help people may have experienced in the past.
The future
I  trust Welcare will be able to continue the powerful work with children, young people and their parents.  I re-established the  Inner London service to address specific problems of young people and harness my experience working with children at risk of significant harm including  child sexual exploitation, and abuse. I hope Welcare is successful securing the funding it needs to continue to meet the needs of young people in Inner London communities.
In my own future beyond Welcare, I want to continue to enhance my social work career, but I'm also interested in training. I'd love to do more creative, artistic and participatory projects in a way which can benefit people. From planting seeds with OurPlace participants, to building volcanoes with MySpace groups, I've found that creativity can be effective therapy, and a great way to get people to open up.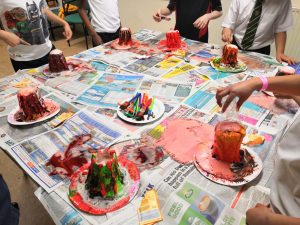 You can find out more about our services in Inner London here, or donate via the button below.