After a break of two years, it was wonderful to be able to gather safely at Bromley Parish Church for the Annual Service of Thanksgiving for the work of Welcare in Bromley on the 19th November.  Reverend James Harratt led the service and we were honoured that The Mayor and Mayoress of Bromley joined us and took the time to stay for lunch and talk with everyone afterwards.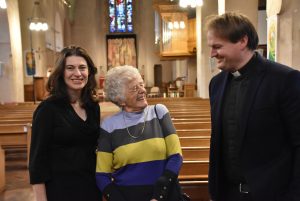 The service, organised by our Bromley Friends and Parish Reps, provided an opportunity to step back and share information about the way we have worked during the Covid-19 crisis and also to re-dedicate ourselves to our mission of supporting families in the future.
It was also an opportunity to invite friends, supporters, churches and professionals who work with us to meet each other and start rebuilding personal relationships and networks.  We were thrilled that the children's choir from the Valley Primary School gave their first performance since March 2020 and they were superbly led by their headmaster, Mr Stephen Jackson
The delicious buffet lunch afterwards was organised with customary skill by Gillian Scales and her dedicated team.  Following the break last year the service made us appreciate even more the opportunities we have to be together, to talk, connect, and bring to life the personal stories of the families we help.  Welcare is a charity underpinned by prayer, and survives because of the deep-rooted connection with our local churches and the community we serve – the service enabled us to rekindle these connections to help us in the year ahead.
See more pictures from the event in the slides below.
---
Find out more about our work in Bromley, or donate today.