In a special service in Southwark Cathedral on 15th June, diocesan family support charity Welcare celebrated 125 years serving children and families struggling with poverty, mental and physical ill health, domestic abuse and social isolation.
The history of Welcare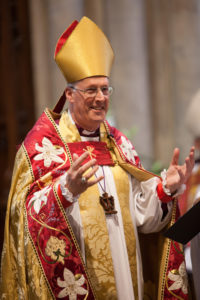 Welcare's roots go back to 1894 when the Diocesan Association for Friendless Girls was started, and over the years the charity has been renamed several times, now shortened to Welcare.  Their President, the Bishop of Southwark, the Rt Revd Christopher Chessun  presided and preached,  saying:
'I want to focus on the spirit in which we pursue our future hope.  We build on the foundations of the past and we look to the future; but if we know where we have come from, we find it easier to know where we are going.  Take the name Welcare: there may have been something quaint to the modern ear about a society committed to reaching out and caring for "friendless girls" – yet there is a core truth that is of the essence of Welcare today.  In the Nineteenth Century, your "friends" were more than your social circle: they were your family and your village, everyone cared for each other long before social welfare and services emerged.  To be friendless was to be in material poverty; it was to be an outcast.'
To read Bishop Christopher's full sermon, click here.
The future of Welcare
From its roots with young mothers in the 1890s, over the years Welcare has extended its reach to include families with children up to the age of 13.  Anna Khan, CEO of Welcare spoke about plans beyond 2019:
'We will continue to provide one-to-one and group work programmes for families in need with children up to the age of 13.  This enables us to work with the whole family, and give parents the skills, confidence and support to be the very best parent they can be, whatever their circumstances.   Our services are constantly evolving to fill gaps in provision and meet changing needs. That is what inspired us to work with older children aged 11-13 especially at the point of transition from primary to secondary school as it can be a turning point, where the wrong path can lead to poor self esteem, risky behaviour, exclusion from school and possibly serious youth crime.'
To see Anna's full reading, click here.
Service user stories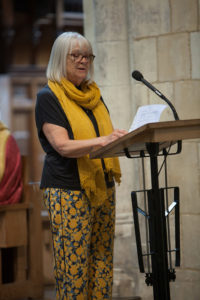 Jo Josh, a long-time volunteer at Welcare's centre in Redhill, who has worked meticulously to update a record of Welcare's history from our beginnings in 1894 to include a selection of our work in the 25 years since our centenary, also spoke at the service.
Reflecting on feedback from people who have used Welcare's services over the years, Jo remarked 'Welcare is there – and with your help will continue to be there – in a world where some things change but many stay the same'.
To see Jo Josh's full reading, click here.
Vibrant performances
To mark the occasion, members of St Gabriel's College (SGC) steel pan band performed, as well as the children's choir from St John the Divine in Kennington.
A young dancer, Mirabelle also took to the stage to perform an inspiring dance to a Christian rap track. As one member of staff commented: 'Working with local young people is at the heart of all Welcare does, it was inspiring to see so many involved in the service.'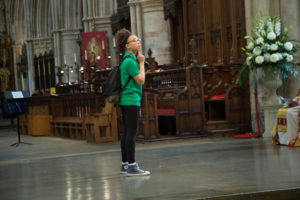 CapeAbility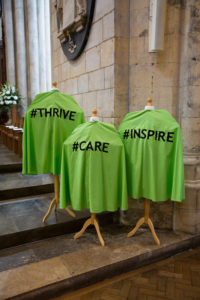 In 2019 Welcare launched their new digital #CapeAbility campaign targeted at schools and junior churches, to raise awareness and support for their work with a new generation.  The campaign uses the metaphor of superheroes (hence the Cape in CapeAbility) encouraging children to thrive, to care and to inspire others. CapeAbility allows children to recognise their own individual strengths and talents, and provides opportunities for children to test themselves and so become superheroes in their own right.
CapeAbility has been developed with schools and junior churches in mind, and is full of exercises, lesson plans and readings to help bring the theme alive. To read more about CapeAbility, or to find out how your organisation can become involved, click below.
You can now read our specially comissioned 125 Years of Welcare booklet.
Scroll through the gallery below for more photos of the day.