As 2020 brought about many changes in day to day life for the nation, our supporters found ways to get creative with their fundraising. As we approach one year since the nation was first placed under lockdown, we look back on the innovative ways Welcare supporters have continued to help us raise funds for the children and families we serve – from adapting old classics, taking things online, and new innovative ways to connect.
Zoom fitness classes
As we all became used to conducting much of our work and even social lives on a screen, Welcare's supporters added fitness into the mix. Many thanks to Reco of @recosfitness – pictured above – who, along with @donate.with.dumbbells raised over £150 for Welcare in the autumn with a free fitness session over Zoom.
Lent lunches
While our Lent lunches are usually a way to bring communities together in person, this year this year we're encouraging virtual lunches to raise awareness and funds, while keeping our supporters safe and healthy.
Pictured above is a Lent Lunch hosted by Welcare supporter Margaret Squire and her friends from St Mary with St Alban Church in Teddington who each had a simple lunch (and chocolate brownie) delivered to their doors to enjoy together on Zoom. Please contact fundraising@welcare.org if you would like any help arranging a Lent lunch in aid of Welcare. We can supply Gift Aid envelopes, stickers, and prayer cards or help you to set up your JustGiving page for your event. We can even join in via Zoom and give you an update on our work.

Reigate Rotary
Reigate Rotary have given generously, putting us forward for a general rotary grant which resulted in a donation of just under £900. This donation follows another £850 given in 2020, after Welcare were invited to speak at an online zoom meeting hosted by Reigate Rotary. Part of the first donation went towards helping a specific family by providing breakfast and after-school club for a child with additional needs.  This provides respite for the mum who has health issues as well as enabling her to spend some quality time with her other children.
The new grant will go towards the continued funding of our Playworker who will been running one-to-one in person sessions for children with either speech and language delay, disabilities and additional needs or for new mums who are struggling. Hina ran 6 individual 5-session courses in Autumn 2020 and is, as of this week, running another set for 6 more families now.
The results have been incredibly positive.  A mother suffering with postnatal depression felt she was better at observing and understanding her baby's behaviour "I sing more to her and play every day".  Another parent whose son had speech and language delay said "I feel reassured about my child's progress and have a better understanding of what is expected of him … the sessions were fantastic,  gave us new ideas and gave reassurance that we weren't doing anything wrong and that we have to be patient".
Hina worked with one mum who initially thought her daughter had a slight language delay but was in denial of anything further.  After a few play sessions Mum was encouraged to get a GP appointment to discuss other issues and is now waiting for specialist appointments.  She understands that early intervention will help and improve her child's condition and is practising different strategies to develop her child's attention and language development at home.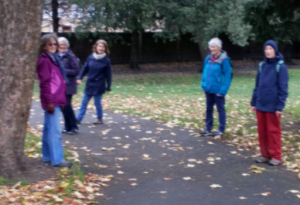 Charlton walk
In December last year a sponsored,  socially distanced walk around Charlton Park, organised by our Greenwich friends (pictured above) raised over £600.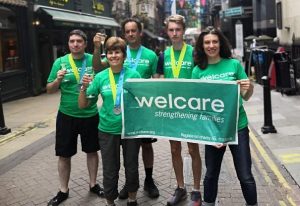 Back for summer 2021: Asics London 10k
We are delighted to confirm that the Asics London 10k will again be taking place this summer, and that Welcare have secured a number of places for our team. After so many event cancellations last year (this is our 2019 team pictured above), it is more important than ever to participate in fundraising events where we are able. Click below to find out more or register your interest.